ARTICLE FROM:
April 01, 2021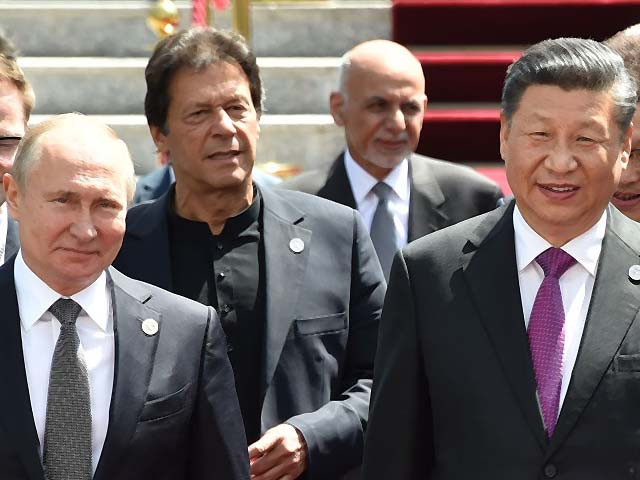 Pakistan and Russia are both pursuing "balancing" strategies that emphasise connectivity-driven "economic diplomacy"
The prestigious Russian International Affairs Council (RIAC) hosted a webinar on Monday with Pakistan's Strategic Vision Institute (SVI) titled "Russia-Pakistan Cooperation: Regional Interests And Global Context".  The event saw the participation of many prominent people, including current Pakistani Ambassador to Russia Shafqat Ali Khan, former Pakistani Ambassador to Russia Qazi Khalilullah, and former Pakistani Ambassadors Tariq Osman Hyder and Arif Kamal, among other distinguished Russian and Pakistani guests. Ambassador Khan spoke about how both countries are gradually building strategic trust, while former Ambassador Hyder published an op-ed on Wednesday at The Nation titled "Pak-Russia Relations: The Way Forward" in which he expanded on some of the insight that he shared during the webinar.
Its former Ambassador Kamal's proposal, however, that forms the basis of the present analysis. He suggested that Pakistan jointly coordinate its diplomatic activity in West Asia alongside Russia and China in order to optimise the potential for normalising the tense relations between Iran and Saudi Arabia, which would in turn greatly stabilise the Gulf if successful. This idea builds upon RIAC and SVI's report from March 2020 about "Russia And Pakistan In The Middle East: Approaches To Security In The Gulf". It also seems to have been inspired by Chinese Foreign Minister Wang Yi's recent visit to the region where he importantly clinched a 25-year strategic partnership deal with Iran that will see the People's Republic invest a whopping $400 billion into the Islamic Republic.
Former Ambassador Kamal is uniquely qualified to table the proposal that he did. According to his recently published memoirs titled "Reminiscences Of My Wanderings", he previously served as Pakistan's envoy to Jordan (2003-2007) and Qatar (1999-2003), prior to which he was its Consul General in Saudi Arabia's Jeddah (1995-1998), served as Desk Officer Iran at the Foreign Office (1979-1981), and completed his first-ever overseas diplomatic assignment in Kuwait (1974-1978). He can therefore be considered one of Pakistan's most knowledgeable experts on the region and even global affairs more broadly seeing as how he later chaired Global Studies at the National Defence University's Institute for Strategic Studies, Research & Analysis (ISSRA, 2007-2017). Upon contemplating it, his trilateral diplomatic coordination proposal is very sensible.
Pakistan and Russia are both pursuing complementary "balancing" strategies that emphasise connectivity-driven "economic diplomacy" over all else. This is evidenced by Pakistan's multipolar grand strategy that was recently unveiled at the inaugural Islamabad Security Dialogue in mid-March and Russia's Greater Eurasian Partnership. Both countries also enjoy excellent relations with all countries in the Gulf, which enables them to mediate between the relevant parties. As for China, its Belt & Road Initiative (BRI) is the definition of economic pragmatism and the People's Republic has always pursued balanced relations with all of its partners. Former Ambassador Kamal wisely noted during his speech at the RIAC-SVI webinar that including China into any potential Pakistani-Russian diplomatic coordination initiative would add greater credibility to it.
This is because China commands impressive economic influence, especially in the Gulf in light of Foreign Minister Wang Yi's trip there and the 25-year strategic partnership deal that he clinched with Iran, which could incentivise all stakeholders to de-escalate tensions in the interests of Chinese-led regional development. Put differently, Pakistan is the Gulf's traditional diplomatic partner, Russia is its newfound non-traditional one, while China is the world-changing economic force to be reckoned with which could help sweeten whatever diplomatic deal that they might all jointly propose. It's of course too early to talk about what form this could take, but discussions should hopefully be held on former Ambassador Kamal's proposal at the earliest possibility, even if they're first done discretely behind closed doors and/or through Track II diplomacy.
The first step in this direction would be for Pakistanis, Russians, and Chinese to talk about this idea among themselves in order to determine the maximum extent of their commonality of interests in the Gulf and the most realistic means through which they could jointly advance them. After that, the second step would be to gauge the region's interests in their proposed trilateral diplomatic coordination initiative, following which they could add relevant details to it upon the conclusion of their consultations with all stakeholders. The third step would then be to publicly unveil their initiative, ideally with some tangible proposals in mind that would be acceptable to the parties involved. Although it's an ambitious timeline, all of this could prospectively be completed before the end of the year if the political will is present.
In summary, this week's RIAC-SVI webinar was indeed a milestone for Track II diplomacy between Pakistan and Russia, especially when considering the political prominence of some of its participants. Although former Ambassador Kamal's visionary proposal for trilateral diplomatic coordination between Pakistan, Russia, and China didn't receive the same coverage as others' presentations, it arguably deserves to be among the most seriously considered of all the ideas that were tabled during that event. This expert on West Asia has a keen understanding of regional dynamics and global affairs after his decades of service to Pakistan. He identified an amazing opportunity for everyone, and it would therefore be in Pakistan's, Russia's, China's, and the Gulf's interests to have their diplomats and experts actively work towards turning his proposal into reality.
---
MORE EXPERT ANALYSIS:
MORE GEOPOLITICAL ISSUES:
FREE SUBSCRIPTION
Get new content delivered directly to your inbox.
---